Special advance screening of our Gameplay documentary will be at the NW Pinball and Arcade Show in Tacoma, WA, Saturday, June 7, 2014!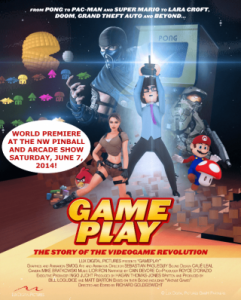 The Northwest Pinball & Arcade Show! takes place from June 6-8, 2014, at the Greater Tacoma Convention & Trade Center in Tacoma, WA, and will feature a special advance screening of our feature film documentary, Gameplay: The Story of the Videogame Revolution. The film will be shown at the event one time only, Saturday, June 7, 8PM. It was an honor being a writer and producer on this film and I look forward to the public reaction to its first showing. More details of other events and final distribution will follow. In the mean-time, check out The Northwest Pinball & Arcade Show's press release for the showing of the film:
"From Pong to Pac-Man and Super Mario to Lara Croft, Doom, Grand Theft Auto and beyond… announcing the brand new feature documentary about the history of video games entitled Gameplay: The Story of the Videogame Revolution. This film will have a special advance screening at the Northwest Pinball and Arcade Show 2014, one showing only, on Saturday June 7 at 8pm.
The documentary is the story of how an idea in 1972 changed the way the world plays games, forever. Be a part of the journey as you witness the birth of the arcade game, and then ride along with the many amazing individuals who harnessed the art and technology, evolving it to new levels. The film features never-before-seen interviews with Nolan Bushnell, David Crane, Noah Falstein, John Romero, Todd Howard and many more. See the changes for yourself, as video games evolve from "User Friendly" to "Lifestyle." It's a roller coaster ride through the decades, with many stories of success and failure that you will witness firsthand. Don't miss out on being the first in the world to see this true film experience of how video games have shaped society. When the credits roll, you'll be left pondering where the future of video games will journey to next.
The Northwest Pinball & Arcade Show! takes place from June 6-8, 2014, at the Greater Tacoma Convention & Trade Center in Tacoma, WA."